Topic: What is the Difference Between Gas Geyser and Electric Geyser
In today's modern and busy life, no one has time to heat up water manually with a stove. As result geysers or water heaters have become an important bathroom appliance for everyone. But if you are looking for a good geyser then you must have come across several types of geysers and faced a difficult question, that is – 'Which types of geysers are Better? Gas Or Electric Geysers?'. So we have created this article where you will get all the answers you need. A detailed comparison of Gas Geyser Vs Electric Geyser is provided here with our best product recommendations. It will help you understand – what is a gas geyser, what is an electric geyser, its pros and cons, and which geyser is best for you. Winter is knocking on the door and it is the best time to upgrade your home with the best geyser you can find online.
Gas Geysers and Electric Geysers are the two types generally used by people in India. So at first, you should know the difference between a gas geyser and an electric geyser. Only then you can select one according to your home, family members, and requirements.
What is Electric Geyser?
As the name suggests the water geysers that use electricity to heat up the water are known as electric geysers or electric water heaters. The simple installation process and easy-to-use mechanism have made them a popular choice for every household. In Electric geysers, the copper wires generate the heat and heat up the water with the help of electricity.
Pros & Cons Of Electric Geysers/Water Heaters
What is Gas Geyser??
Gas geysers are one type of water heater that uses the heat from burning fuel (usually gas or LPG) to heat up the water like a stove heating up the water. They are more power efficient as compared with electric geysers. It can offer a continuous flow of hot water and also gives instant heating. They are the best for a family with many members or a flat apartment as a central geyser or water heater.
Pros & Cons of Gas Geysers/Water Heaters
Different Between Storage Geysers and Instant Geyser
Both gas geysers and electric geysers come in instant and storage models although for Indian markets only instant gas geysers are available. But you can find both instant and storage types in the case of electric geysers.
1. Storage Geysers heat up a large amount of water at the water once and store it on its tank. Later users can use it for hours without turning it on. They are suited for big families as they can store sufficient hot water. These Geysers can keep the water hot using the auto-cut facility. It is a convenient option for household purposes.
2. Instant Geysers are compact and they instantly heat up the water and provide a continuous hot water flow. They are best for small families or singles.
Electric Geyser Vs Gas Geyser
| S.No | Aspect to consider | Electric Geyser | Gas Geyser |
| --- | --- | --- | --- |
| 1. | Ease of Installation | Installation is easy as it only involves an electric connection. | Installation required Gas line or LPG connection and also ventilation system is required. So in this case installation is a little bit tricky. |
| 2. | Ease of using | Almost everything is automated. Simple single touch use after installation. | The water level and heating rate should be regulated manually. |
| 3. | Working method | The water heats up when electricity passes through copper wires/coils and generates heat. | A gas burner is installed at the bottom of the water tank. The burner heated up the water and we get warm water through pipes. |
| 4. | Time is taken to heat water | Takes relatively more time than a gas geyser. | Heat-up water quickly, almost three times faster than the electric geysers. |
| 5. | Life span | Due to the use of electricity and the heating coils, the longevity of this kind of geyser is high. (approx 8 years or more) | It works on the conventional heating mechanism and the lifespan of this kind of geyser is lower (approx 5 years or more) |
| 6. | Space occupied | Requires less space as no gas connection or ventilation is required. It can be wall-mounted. | Consume more space as it requires additional space for the LPG cylinder and proper ventilation. |
| 7. | Safety | It is a safer option | A bit risky as the LPG is highly inflammable |
| 8. | Price | A bit expensive, comparatively | Budget-friendly |
| 9. | Environment impact/ Pollution | No direct impact on the environment as water is heated through electricity. | High pollution, due to the release of Carbon monoxide. |
Comparison Of Gas Geyser and Electric Geyser
Now let's discuss some gas geyser vs electric geyser points in detail which may help you for further understanding.
Ease Of Use
A Gas geyser must be operated manually using knobs, whereas an electric geyser features automatic operation. You have to only operate the power on-off switch from the board. Although Modern gas geysers come with advanced temperature control, still gas flow, water flow, etc must be controlled manually using knobs.
Durability
Gas Geysers work with the conventional heating method using the burner. The continuous burning of gas and the production of heat reduce the lifespan of the geysers. In the case of electric geysers, no burning or fule is present, so it lasts longer. These circuits used in electric geysers won't get affected unless there is a voltage surge.
Time Taken To Heat Water
Gas geysers can heat up the water almost immediately with their burner mechanism. In the case of electric geysers, the water heat-up process is retentively slower, but an instant electric water heater can be a better choice if you want to save time. as it heats water almost immediately but the power consumption will be high and the capacity will be below.
Space Requirement
Electric Geysers can be wall-mounted, organized, and consume almost no space in your bathroom. But, in the case of Gas Geysers, lots of space is needed in your bathroom for proper ventilation and pipelines. Additionally, LPG gas should also be placed outside the bathroom, so extra space must be available.
Safety
Electric Geysers never release any harmful gases and in the case of storage electric geysers you can 1st heat up the water and then use it after power cutoff. So for an end consumer, it can be totally safe. But, Damage or leaks in Gas Geysers can be extremely dangerous. So please do not buy a gas geyser if you don't have a proper ventilation system.
Environmental Impact/Pollution
In Gas Geysers, the burning of LPG gases releases carbon monoxide, and the burning of hydrocarbons is indeed dangerous. But, when it comes to Electric geysers, no direct impact on the environment can be seen at the source.
Ease Of Installation
In the case of Gas Based Geysers, only a professional can install the tanks, attach gas pipes and make proper ventilation. But, Electric Geysers are easy to install although professional assistance is recommended.
My Opinion on Electric Geyser Vs Gas Geyser
Both the electric and gas geysers have their own significance. Each of them is perfect for a specific group of people with different benefits and drawbacks.
But after this detailed comparison of gas geyser vs electric geyser indeed we have a clear winner. Electric Geysers are the safest, easy to use, and long-lasting. If you are looking for a geyser for your home, then an electric Geyser is highly recommended. But if have a budget issue or you live in a place where power outage is a common issue then you can also consider a gas geyser.
---
Next, you will find the best and most popular gas geyser list with pros and cons. I hope it will ease your task of selection a little bit more.
Image
Product
Details
Price
Havells Instanio 3-Litre Instant Electric Geyser
Type: Instant Electric Geyser
Capacity: 3-Litre
Warranty: 2 years on product and 5 years on the condenser
Check Price
Havells Monza EC 10 10-Litre Storage Electric Water Heater
Type: Storage Electric Geyser
Capacity: 10-Litre
Warranty: 5-year warranty on the inner container; 2 year comprehensive warranty
Check Price
Bajaj Majesty Duetto Gas 6 LTR Vertical Gas Geyser
Type: Instant Gas Geyser
Capacity: 6-Litre
Warranty: 2 years on Product
Check Price
1. Havells Instanio 3-Litre Instant Electric Geyser Review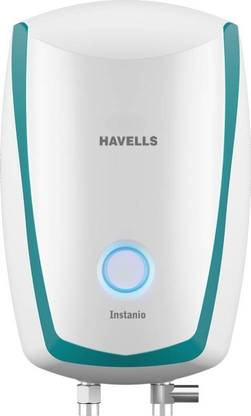 Key Features:
Strong & durable body
Thermostat and a thermal cutoff for temperature control
Multi-functional safety pressure valves
Fire-retardant power cord to ensure safety
LED indicator
Havells Instanio is one of the best-selling instant electric geysers that is compact but heats up the water instantly. If you are looking for an electric geyser within budget then this one is the best choice for you.
---
2. Havells Monza EC 10 10-Litre Storage Electric Water Heater Review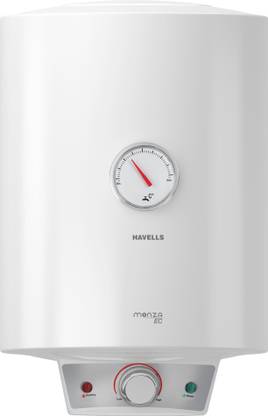 Key Features:
Easy installation process
Simple temperature knobs
Ease of use
Feroglas technology prevents corrosion
Strong anode that stops scales from accumulating on the heating element
Premium design
Whirl-Flow technology for increased hot water output
This is another geyser from Havells which is a storage type and it is an ideal water heater for a family of three or four. here you can heat up 10 liters that can be stored for a letter use.
---
3. Bajaj Majesty Duetto Gas 6 LTR Vertical Gas Geyser Review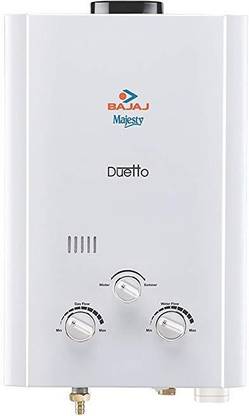 Key Features:
Gas Geyser
6 Litres Tank
Free Installation is provided
Maximum Temperature: 85 degrees Celcius
Safety options provided like Child lock, anti-freeze device
Outer Body Material: Powder Coated, Anti-corrosive Steel
Warranty: 2 years
Adjustable burner knob
Advanced combustion technology for best thermal efficiency of >84%
Bajaj is one most trusted brands in India and Bajaj Majesty Duetto is one of the best instant gas geysers where electricity is not required. LPG or natural gas is used here as a source of heat. So it is fast and more economical than an electric heater.
If you are interested in Gas geysers then please check out our new post –
Best Gas Geyser in India <<- Click Here
---
Conclusion
First of all, if you liked this article then please comment below sharing your thoughts. And if you have any questions regarding Water geysers then feel free to ask any questions using the contact page.
So today we have reviewed 3 types of geyser for you. if you want a compact geyser within budget then you can select Havells Instanio 3-Litre Instant Geyser. It provides quick heating, consumes less space but the power consumption is higher as it is heating up the water instantly.
Next, if you live in an area where power cut is a common problem then you can consider a gas geyser, like Bajaj Majesty Duetto. But you should take care of its installation terms & conditions.
If you want a storage type geyser where you can heat up the water and store it for later use then you can select Havells Monza EC 10 10-Litre Storage geyser. Here the power consumption is less as you can heat up the water for one time and that can be used by multiple family members.
If you cannot decide from our list then please visit – All geyser list
FAQ
Which capacity geyser is best?
If you require a geyser for a family of four then you should get a geyser of the capacity of 10-Litre or above. If you are single and buying it for your own use then 3-Litre or above is sufficient.
Is instant geyser good?
Instant geysers are compact and low in capacity and they instantly heat up the water for continuous use. If you don't have a proper pipe connection and hot and cold water regulator then Instant geysers are not suitable for a shower bath. But they are much cheaper than other types of geysers and best for small families or singles where less water is needed at one time.
Best geyser brand in India?
Bajaj and Havells are considered to be the best geyser brands in India.